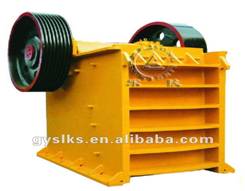 Introduction of Jaw Crusher
As a
jaw crusher professional manufacturer
in China, Gongyi Songling Mining Machinery Co. Ltd. is involved in the design, production, distribution, and sale of

high-quality

large and medium size crushers and grinders.
Over the years, our company has continuously improved the product design and refined jaw crusher working performance to

ensure

that good quality service is achieved.
·
big reduction ratio ,even final product fine
·
simple structure ,reliable working ,low operation cost
·
deep crushing chamber and no dead zone ,improving the feeding capacity and output
·
safe and reliable lubrication system ,easy parts replacement ,minor maintenance work
·
with large scope of discharge opening adjustment ,it can meet different customers' need
·
energy saving equipment :stand-alone save15~30% energy ,system save more than double energy
Technical Parameters of Jaw crusher
Note:
The technical parameters above are just for your reference. If there is any change, all parameters and overall dimension are subject to operating instructions. Any questions please feel free to contact us.