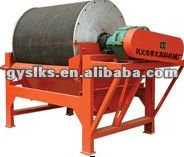 Introduction of Magnetic separator
Magnetic separator
mainly consists of such four parts as cylinder, magnetic system, cell and transmission parts. Cylinder is made of 2-3mm welded and bent stainless steel and the terminal cover is forged aluminum plate which is connected with stainless bolts. The motor drives the cylinder to go round and round through decelerated machine. The magnetic system is open and put in the cylinder. The magnetic piece is installed on the bottom plate with stainless bolt, the axis of magnetic yoke spreads out of cylinder, and there is cranks which are fixed on the end of axis. The angle of magnetic system can be adjusted by pulling the crank, and be fixed with push rod. The working area of cell is made of stainless steel plate, and the other parts of frame and cell adopt common welded steel.
Features of Magnetic separator
The magnetic system of magnetic separator integrates good-quality iron-oxide body materials with rare earth magnetic steel; the average magnetic induction intensity of cylinder surface is 100-600mT. According to the needs of customers, the magnetic separator can be co-current, half-countercurrent, countercurrent, and so on. The magnetic separator has the advantages of simple structure, big processing volume, convenient operation and easy maintenance, etc.
The magnetic separator is applicable for wet mineral separation of such materials as magnetite, pyrrhotine, roasted ore and ilmenite, etc. and it is also applicable for iron removal working of such materials as coal, nonmetal and building materials, etc.
Technical parameters of Magnetic separator
| | | | | |
| --- | --- | --- | --- | --- |
| | Magnetic field strength (gs) | | | |
| | | | | |
| | | | | |
| | | | | |
| | | | | |
| | | | | |
| | | | | |
| | | | | |
Note:
The technical parameters above are just for your reference. If there is any change, all parameters and overall dimension are subject to operating instructions. Any questions please feel free to contact us.